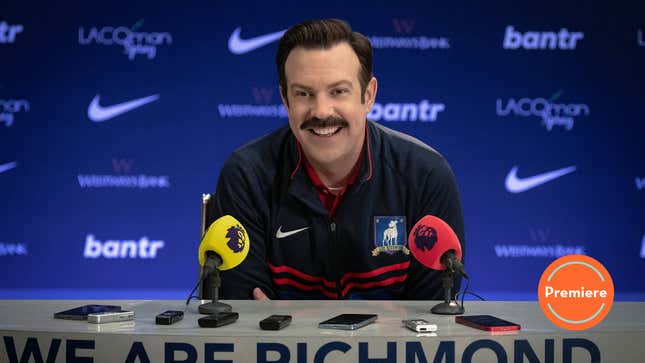 Everyone's favorite mustachioed American coach is finally back. Ted Lasso charmed audiences, critics, and Emmy voters with its near perfect second season after announcing itself as the great comfort watch of 2020, making us all fall for what was originally an absurd, years-old Jason Sudeikis sketch.
With its emphasis on radical (almost cloying) positivity and a frank approach toward mental health—all laced through a comedic sensibility that was equal parts folksy and sophisticated, Ted Lasso truly felt like the natural extension of kindcore shows like The Good Place and Schitt's Creek. Kindness is king here, yes. It's not just something to be but something to aspire to. But where such a premise might have made many of us squirm with its brazen earnestness, it won even the more cynical ones among us. Yes, I'm speaking of myself. I tried hard to resist Lasso but gosh darnit not even I am immune to his charm.
Ted Lasso
Episode #3.1 (Season 3, Episode 1)
Comedy/Drama/Sport
Grade
B+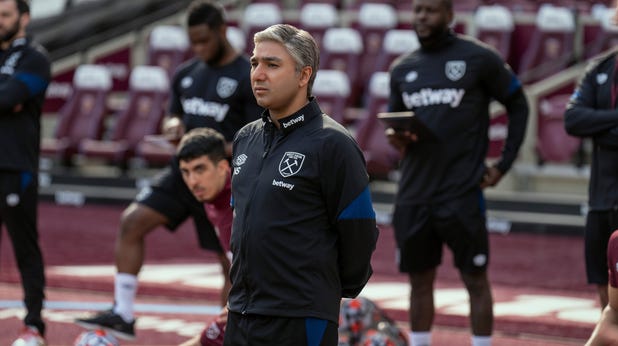 CAST
Jason Sudeikis
Ted Lasso
Brett Goldstein
Roy Kent
Brendan Hunt
Coach Beard
Nick Mohammed
Nathan Shelley
Hannah Waddingham
Rebecca Welton
Jeremy Swift
Leslie Higgins
I am happy to report that with its season three opener, "Smells Like Mean Spirit," Apple TV+'s Emmy juggernaut has lost none of its luster. If anything, it's doubled (tripled?) down on its commitment to finding the funny in preaching against those who'd take pleasure in mean-spirited humor. This is what structures the episode, with Ted's classy, self-deprecating (dad!) jokes shining over and against Nate's needless digs. Last season had already set up the coming rivalry between Nate (Nick Mohammed) leading West Ham and Ted's continued work with Richmond; this episode goes further, framing their dueling approaches to coaching as indicative of what they each stand for.
Ted is yet again the underdog, hoping he can prove Paddington bear wrong and not come in 20th place now that Richmond is playing in the Premier League. Meanwhile, Nate has to overcome the thought of being an underdog who's been tasked with maintaining West Ham's winning streak. But where Ted continues to put his team's wellbeing above all else (with, arguably queasy-sounding sewer metaphors and field trips), Nate is clearly going to run his team with a mean streak that may or may not pay off. This is someone who bellows about "dumb dumb lines" and who relishes cutting Ted down to size at a press conference. But, just as we've seen in previous episodes, Nate's own insecurities are driving this: just look at how crestfallen he appears once he sees mean memes posted at his expense and how disappointed he feels when a text from his mom reminds him that nothing he does will ever fully please his father.
Season two initially looked like an origin story of sorts for "mean Nate." And there is still a bit of that here. But there's still a welcome humanity in Nate—even if the way he drives off in his new car at the end of the episode suggests he may well be further recruited into the dark side Rupert (Anthony Head) shrouds his entire soccer team in.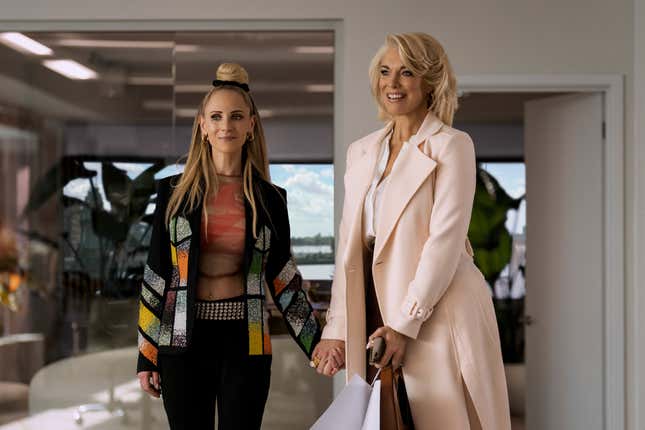 For yes, Ted Lasso season three may pit Nate against Ted, but in another way, we're just yet again caught up in a continued Rebecca (Hannah Wadingham) vs. Rupert feud. And try as Head might in getting us to relish rooting against stuck-up Rupert, you don't need much convincing in wanting Rebecca to win. That's because Waddingham, whether comforting Keeley (Juno Temple), shouting at Ted, or freaking out next to Higgins (Jeremy Swift), is the kind of performer who just demands your attention in all the right ways. You can't help but want Rebecca to succeed. (And maybe to sing. Really, with someone as talented as Waddingham, you'd think the Ted Lasso team would be cooking up quirky storylines that would require such showboating on any given episode.)
At least we got to see Waddingham volley with Juno Temple, easily one of the best pairings in a series full of 'em. Rebecca's friendship with Keeley was a fantastic move by Ted Lasso's writers. I worried that now that Keeley was off on her own running her own PR agency (with a great CFO to boot) we'd lose their crackling chemistry. I didn't have to fret all that much, thank god. Also, as per usual, Keeley served as the voice of reason: While Rebecca would've rather thrown fuel into the West Ham/Richmond feud, Keeley was right to celebrate the way her friend had (inadvertently) "let Ted be Ted."
Which is to say: In a world of Nates, the character and show alike want you to be a Ted. Humor at someone else's expense is easy. Cheap, even. Humor at one's own expense? Well, that can be both liberating and equally as cutting. Can it be corny? I mean, yes, obviously. (Ted runs a "How dumb am I?" call and response, for crying out loud.) But there's a willingness to use such lowly humor to posit a world and a vision of it that moves swiftly against seeing meanness as a marker of strength and which imagines humility as a welcome shield against below-the-belt shots—no matter where they come from. It's a lesson Ted models for Rebecca, for Nate (who's only more incensed about it all), and for all of us, something made all the more admirable given how much pain he's still in. Who knew Thanos' Infinity Gauntlet could be the melancholy kicker this season opener needed?
Stray observations
Favorite line of the episode: "One man's grope is another woman's gain!" Runner ups: "I look like Ned Flanders doing cosplay of Ned Flanders" and "I've had more psychotic episodes than Twin Peaks!" (Also: I would have never pegged jolly ol' Ted as a Lynchian devotee. Doesn't he strike you more as a Spielberg fanboy?)
I was worried we'd seen the last of Dr. Sharon (Sarah Niles). Was this a one-off or are we going to be able to witness Dr. Sharon's continued work with Ted over the phone? Here's hoping.
Despite its title, Ted Lasso is an ensemble piece through and through. This opener introduced us to several new faces I hope we see more of, including Disco (Jadran Malkovich), Kenneth the bus driver (Mark Kempner), and Ms. Kakes (Rosie Lou)—seriously, her delivery of "It's a car" made me laugh out loud.
My hope, though, is that they are better rounded than, say, Dani "Football is Life!" Rojas (Cristo Fernández), a character who seems stuck in that two-dimensional catchphrase.
Jamie Tartt's '90s hair. That's it. That's the observation.
It's a testament to how funny Ted Lasso can be that even when it deploys not one but two precocious kids (my biggest sitcom pet peeve), I choose to look away. Did we really need a kid to tell Roy Fucking Kent that maybe giving Keeley up wasn't such a great idea?
Of course Ted would have her on his contacts as "Rebecca aka Da Boss"
Could Rupert's office look any more like a villain's lair? (Also, this is definitely the Buffy fan in me, but I cannot think of Anthony Head and a circular window like that and not think of Angel [#RIPJennyCalendar].)
Okay, I'll admit that Richmond LEGO set looks very cute. Is it being mass produced and being sold yet?
Rebecca may have a point, but I'm still following the metaphor all the way and figuring out whether I agree that "crying is like an orgasm of the soul." Wouldn't it be closer to a sneeze?